Discover The Beauty of Andaman On A Seabeach Delight Andaman Beach Tour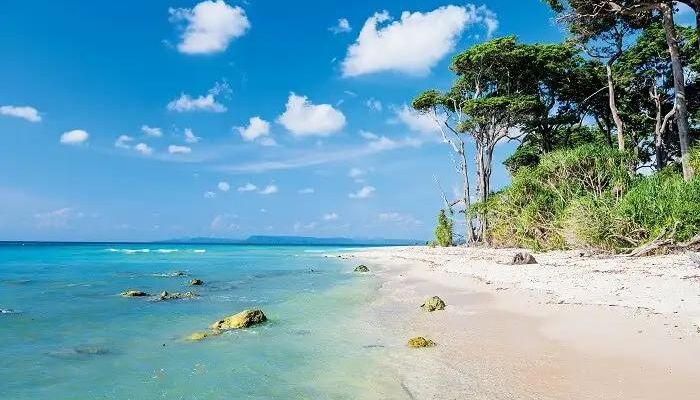 Looking for an exotic beach destination that will leave you mesmerized? Look no further than the Andaman Islands! This hidden gem of India, located in the Bay of Bengal, boasts crystal-clear waters, white sandy beaches, and lush green forests. An Andaman Beach Tour is a perfect way to explore this paradise on Earth. From swimming with elephants to snorkeling with colorful marine life, there's something for everyone on this adventure-filled trip. So pack your bags and get ready to discover the beauty of Andaman on a seabeach delight tour!
What to Expect on an Andaman Beach Tour
When planning for an Andaman Beach Tour, there are a few things you should expect in order to make the most of your experience. Firstly, be ready to immerse yourself in the beauty of nature as you explore the pristine beaches and crystal-clear waters that give this destination its charm.
Expect adventure activities like scuba diving and snorkeling which will take you beneath the waves to discover vibrant corals and exotic marine life. Kayaking through mangroves and exploring limestone caves can also add some excitement to your trip.
You can also expect to encounter friendly locals who are always willing to share their culture with visitors. Take part in traditional dance performances or indulge in local cuisine at one of the many beachside restaurants.
With over 500 islands scattered across Andaman, each offering unique experiences, it's important to know what kind of trip you want before booking. If relaxation is your goal, then secluded beaches like Radhanagar Beach or Lalaji Bay could be perfect for you while those interested in history would enjoy visiting Cellular Jail - a colonial prison turned national memorial.
In summary, whether seeking adventure or relaxation on sandy shores with warm hospitality from locals along the way; Andaman has something special waiting for everyone!
Places of Interest in Andaman
Andaman is a paradise for nature lovers and adventure seekers. The island has some of the most beautiful beaches in India, including Radhanagar Beach, Elephant Beach, and Corbyn's Cove Beach. But apart from these picturesque beaches, there are several other places of interest that you should explore on your Andaman beach tour.
One such place is Cellular Jail or Kala Pani. It was built by the British as a colonial prison and now stands as a national memorial to Indian freedom fighters who were imprisoned here during India's struggle for independence.
If you're interested in history and anthropology, then visit the Anthropological Museum in Port Blair. Here you can learn about the tribal communities that inhabit the islands and their customs and traditions.
For wildlife enthusiasts, Mahatma Gandhi Marine National Park is a must-visit destination. You can take a glass-bottom boat ride to see colorful corals and fishes or go snorkeling at Jolly Buoy Island to witness the marine life up close.
Another fascinating attraction is Ross Island which was once known as the "Paris of the East." Today it's an abandoned island with ruins of old buildings but still holds its charm with scenic views all around.
Don't forget to visit Baratang Island where you can see natural limestone caves formed over thousands of years due to water erosion plus travel through dense mangrove creeks via speedboats showcasing exotic fauna sightings such as crocodiles & rare birds nesting above them on branches!
Things to Do on an Andaman Beach Tour
When it comes to an Andaman beach tour, there are plenty of things to do that can make your trip exciting and memorable. The pristine beaches and crystal clear waters offer numerous opportunities for adventure and relaxation.
One of the most popular activities on an Andaman beach tour is snorkeling. With its diverse marine life, the island offers a great chance to explore the underwater world. You can also go scuba diving to see colorful corals, rare fish species, and even shipwrecks.
For those who seek some adrenaline rush on their holiday, try kayaking or jet skiing along the coast. These water sports are perfect for thrill-seekers looking for some action-packed fun in the sun.
If you enjoy trekking, then head over to Mount Harriet National Park or Saddle Peak National Park where you can hike through lush forests with stunning views of nature all around you.
Alternatively, take a stroll along Radhanagar Beach which has been named one of Asia's best beaches by Time Magazine. This tranquil spot is perfect for couples seeking romantic walks at sunset.
Indulge in some local cuisine at various restaurants offering fresh seafood dishes such as crab curry or grilled lobster while enjoying breathtaking ocean views.
An Andaman beach tour promises endless possibilities for fun-filled adventures making it ideal for families, couples, and friends alike!
Conclusion
An Andaman Beach Tour is truly a dream come true for beach lovers and nature enthusiasts. The islands offer a serene getaway from the hustle and bustle of city life with their crystal-clear waters, sandy beaches, lush green forests, and diverse marine life. Whether you're looking to relax on the beach or indulge in water sports activities such as scuba diving or snorkelling, there's something for everyone on an Andaman Beach Tour.
The stunning natural beauty of this paradise destination coupled with its rich cultural heritage make it one of the most sought-after tourist spots in India. So pack your bags and embark on an unforgettable journey to discover the magic of Andaman's Seabeach Delights!