GROUP TOUR PACKAGES IN INDIA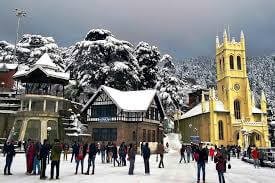 Posted On
GROUP TOUR PACKAGES IN INDIA
Are you craving a luxurious getaway to lush mangroves, gleaming white beaches, and awe-inspiring coral reefs? If you answered yes, it's high time you should pay a visit to the fascinating Andaman and Nicobar Islands.
Andaman has a lot to offer, from crowded beaches to calm limestone caverns reflecting the sanity of nature. Whether you're coming alone or with a group of friends, this venue has an abundance of beauty in store for everyone.
Connect with Seashore Delight to make us your travel companion on this wonderful voyage. We'll draft the most functional and worthwhile itineraries in the hope that you enjoy your trip in style with our premier group tour packages in India that are absolute bang for your bucks.
What Seashore Delight Has In Its Bucket For Its Visitors?
> Wide array of tour packages:
Oodles of Andaman visitors have made Seashore Delight their preferred travel operator for our grouptour packages in Andaman.
> Arrangements for couples:
We have put together a special package for our couple travellers to make their journey unforgettable. A delightful private candlelight supper and a stunning beach party are included in our couple's package. However, to make your visit even more romantic, we offer you and your companion a personalised couple photoshoot section.
We guarantee that our dedicated guide in the Islands will be your round-the-clock instructor, as safety has always been our priority. The best part is that all of our itineraries may be tailored to your tastes and interests.
Our Hotel Recommendations & Car-rental Facilities Will Impress You. And We Don't Miss Ticketing Either
Visitors' experiences are always enhanced by a comfortable stay. With this in mind, we offer you the finest hotels and resorts in the Andaman and Nicobar Islands at extremely reasonable costs,
Our hotel and resort staff go above and beyond to ensure that you enjoy the best possible experience. Our unrivalled customer service and management skills in the archipelago ensure you have the most desirable experience.
Getting across the exotic islands by car is a bit of a challenge. The high rental rates for local cars may put a damper on your trip mood. However, Seashore Delight comes to your aid. In Andaman, we offer high-quality, cost-effective, and swift vehicle rental services.
You can choose your vehicle from a wide range of cars at Seashore Delight, ranging from luxury to sports, based on your preferences and budget.
Our rental options are reasonably priced and will not drain your bank account. We also make certain that you receive additional discounts on your rental plan of choice.
Air-ticketing Services
In addition to automobile rentals, we also offer airline ticketing. All of your airline ticket bookings are gently taken care of here. We always make sure to provide you with the tickets at a reasonable price. Additionally, our staff makes it a point to keep you informed about new ticket schemes as they become available.
What Makes Seashore Delight Stand Out in the crowd?
Andaman is a tropical paradise nestled in the Bay of Bengal. The Jarawa tribe lives on these islands, which have virgin woods, stunning white beaches, coral gardens, and crystal clear water. Moreover, this archipelago consists of over 300 islands and is thus one of India's greatest scenic destinations.
The weather on these islands is usually pleasant throughout the year.
Tropical storms, however, wreak havoc on the island usually in July and August. As a result, we recommend visiting Andaman during the peak months of December and January.
You have the opportunity to see pristine areas and the island's enhanced beauty once the cyclone passes.
Tourists should always purchase group travel packages through a travel operator to traverse the prime hotspots of the gorgeous archipelago. A pre-planned itinerary created exclusively for you is the main feature of our group tour packages in India.
This itinerary will guide you during your tour. We commonly add airline tickets, lodging, meals, sightseeing, vehicle rentals, and a variety of other services to the itinerary. Our main goal is to create a hassle-free and all-encompassing experience for our clients.
That is why, to have a wonderful and cherishable vacation, you must choose the correct tour agent.
Why Is Seashore Delight The Better Tour Operator?
There are various compelling reasons to choose Seashore Delight as your Andaman trip operator. The following are the details:
> Seashore Delight is the most popular and well-liked tourist agency in the Andaman Islands. We are continuously working to provide our visitors with the best group travel packages in India.
> We always go above and beyond to meet and surpass our visitors' expectations and provide them with the lasting memories they deserve.
> Our quality services are available at unbeatable pricing to the guests. Our packages allow people to have an all-inclusive vacation without hampering their hard-earned money.
> Visitors at Seashore Delight have the option of completely customising their package based on their mood and expected budget.
> Our services are available even at a wee hour and are ready to serve you on short notice. We also have a dedicated customer service team that is always available to answer any questions you may have about anything.
> Thousands of our guests have already fallen in love and talked highly about us, and we continue to do so daily. As a result of their excellent feedback, we have risen to the top of the archipelago's travel operator rankings.
Don't Keep Yourself Or Your Trip Waiting
If all of this overall sounds intriguing to you, dial us to share your preferences. Our unrivalled itineraries, tailored to your unique requirements, will ensure that your trip is one to remember. Don't be in dilemma and get in touch with us immediately to learn more about our unique and affordable group travel packages in India.