Places to Visit in Port Blair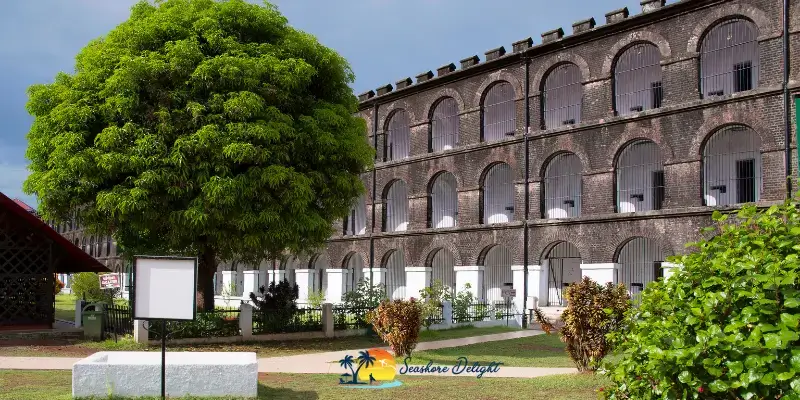 Posted On
Places to Visit in Port Blair
If you're thinking of balmy skies, lush greenery, turquoise blue waters, and mesmerizing view, pack your bags for a trip to Andaman to upgrade your days off. Andaman has a plethora of fun and outdoor activities to offer due to the year-round pleasant weather and tranquil shorelines. The delectable seafood and a long list of mind-boggling places to visit in Port Blair will make your vacation truly unforgettable.
Port Blair is the heart of the archipelago, where travellers from all over the globe come to spend time with their families. Needless to say, Andaman & Nicobar tourism is a must experience and Seashore Delight is right here to help you figure out the top attractions in Port Blair.
1. Cellular Jail
Popularly referred to as Kalapani, the Cellular Jail of Port Blair has served as a deposition to the grotesque colonial era. This national memorial draws attention to the Indian freedom struggle and is amongst the most famous places to visit in Port Blair, primarily because of the provincial past associated with this place.
A Light & Sound show is held every evening on the grounds of the Cellular Jail, which gives a brief overview of what happened in the jail before independence, as well as a brief history of these islands. The show brings the heroic freedom struggle to life.

2. North Bay Island
North Bay, located near Port Blair, is a secluded island with a relatively small area. This destination is included in our Andaman & Nicobar tourism packages and is frequently visited by tourists on a day trip. The island is surrounded by crystal clear water and has a shallow shoreline that provides a spectacular underwater view.
The beach has white sand and is shaded by dense tropical trees, with huts and wooden benches to set the tone. The iconic North Bay lighthouse can be found on every 20-rupee Indian currency note. Seashore Delight recommends North Bay Island for its breath-taking coral reefs and exhilarating water sports.
3. Corbyn's Cove Beach
Just at a little distance of about 6 km from the main town lies this coconut-palm fringed delightful spot – Corbyn's Cove Beach. A breathtaking mingling of lush green coconut palms and turquoise blue waters, this is a 'must-visit' spot.
Enjoy sun basking and swimming in the clear blue waters. When hungry, just head on to the tourism run 'Waves Restaurant and Beer Bar' for a delightful meal. On your journey to the
beach, you can spot the historical remains of the Japanese bunkers. For adventure lovers, this beach is a perfect spot for surfing. Close to the beach is Snake Island, known for mesmerizing coral life and scuba diving opportunities.
3. Marina Park
The Mahatma Gandhi Marine National Park is a dreamy paradise in the Andamans and one of the most mesmerizing places to visit in Port Blair. It is tucked away from the city's noisy streets and hubbub. This park, located in Wandoor village, is home to 15 charming islands with exotic marine life.
The Mahatma Gandhi Marine National Park has an area of 281 square kilometres and includes peaceful beaches, coral reefs, lush mangrove covers, rainforests, and lagoons. This eco-friendly destination in the Andaman is a tranquil location that provides visitors with excellent value for money.
4. Wandoor Beach
Wandoor beach is one of Andaman's most popular beaches and is undoubtedly one of the top sights in Port Blair to enjoy. It is located approximately 25 kilometres to the east of Port Blair. It is a picturesque beach and a major tourist attraction that captures the attention and interest of visitors.
This lovely beach is ideal for swimming and admiring the vibrant corals. The beach, with its calm blue water, provides a relaxing atmosphere in which you can just relax and spend quality time.
5. Chidiya Tapu
Chidiya Tapu – located at the southernmost tip of the South Andaman Island is a paradise for birdwatchers. This destination, situated about 28 km from the main town is ideal for trekking, picnicking and watching sunsets. Owing to the glorious views of the setting sun that this island offers, the Sunset Point here is a major attraction.
For a delightful Port Blair tourism experience, visit our Andaman Tour Packages.
6. Ross Island / Netaji Shubash Chandra Bose Dweep
Ross Island is yet another one of the famous places to visit in Port Blair. It falls under the South Andaman district, Port Blair.
The island offers a segment of colonial history to the table that makes your trip to the island an informative one. The magnificent man-caves, the old church, the traces of British architecture and the grim history associated with this location gives off a distinct vibe that cannot be found anywhere else in Andaman and Nicobar.
So what's holding you back from exploring the beauty of the islands? Connect with Seashore Delight right away and we'll create a perfect travel itinerary comprising the best places to visit in Port Blair and more, only for you.